The major difference between other Saw manufacturers and MAGICUT is that we have the unique ability and capability to manufacture Bimetal Strips the primary raw material used for making all Bimetal Saws and further manufacture the raw material used for making Bimetal Strips as well i.e. the Edge Wire and Backing Material.
Bimetal Strips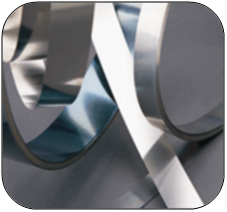 The main raw material used for manufacturing of the Saws that was until recently fully imported by the company. Availability of this material was always a challenge as there are limited suppliers of this product and hence the company decided to manufacture its own raw material.The Bimetal Strips is primarily used for Hand Hacksaw Blades, Power Hacksaw Blades, Band Saw Blades, Hole Saws, Air Saw, Reciprocating Saw Blades and Jigsaw Blades. MAGICUT now has the flexibility to offer different options of raw material as it can use special combinations of Edge Wire and Backing Material. Most importantly The company will not be dependent on External Sources and its Long Term Interests are Extremely Well Protected.
HSS Edge Wire & Backing Material
MAGICUT has also implemented its project for further Backward Integration where it makes the raw material for Bimetal Strips as well.These strips need two types of inputs namely HSS Edge Wire and Backing Material and the company is currently manufacturing both of them. The companyenjoys monopoly in India, andMAGICUT is the today first and only company in India manufacturing this and only amongst Six Companies Internationally.