MAGICUT is equipped with the most modern and precise testing equipment's that are periodically calibrated.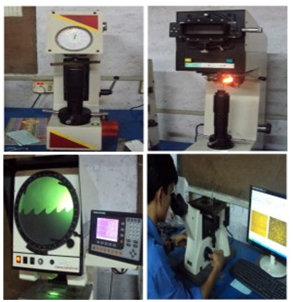 MAGICUT's well-equipped laboratory tests all in coming raw materials for physical appearance, surface finish, dimensions and other variables. Before processing of the raw materials a whole battery of tests, from checking of chemical composition to microscopic tests for carbide distribution is carried out. Every tool that is supplied goes through is inspected at all stages of production and passes through stringent inspection tests before being finally packed.
MAGICUT quality management system is based on and certified in accordance with the ISO 9001:2008 standard. All important workflows and responsibilities are shown in flow charts and organization charts. Furthermore, instructions are produced describing the workflows in detail, particularly for the manufacturing areas.
MAGICUT Quality Management ensures that the company meets the highest professional and industrial demands. The company uses an efficient quality management system. This ensures comprehensive regulation of all quality related processes and responsibilities as well as of measures to be introduced. These defined measures extend from the innovative idea for a new product to its development, production, sale, delivery, customer service and consulting (application technology). The company's Quality Control Department is independent and directly reporting to the CEO.
Quality Policy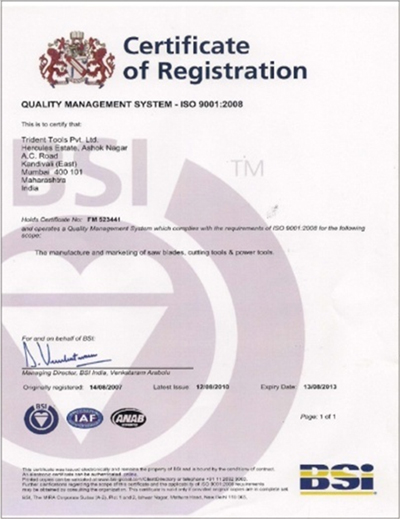 We at TRIDENT TOOLS LTD shall be quality suppliers of the Hand Tools, Cutting Tools, Power Tool Accessories and Steels are committed to manufacture products conforming to International Standards. We shall strive to achieve total customer satisfaction by anticipating and meeting their changing needs with a commitment to satisfy applicable regulatory requirements.
Towards this TRIDENT TOOLS LTD endeavor to continually improve its Quality Management System, Products, Processes, Practices and Personnel skills.
In order to achieve the above Quality Management System complying with ISO 9001:2008 it is instituted and implemented with the active involvement and commitment of top management and all employees.